When the pandemic began just under one year ago, new product development (NPD) was dropped from the priority list for many functional food and beverage businesses. The food industry has since adapted to the new normal. And virtual NPD and innovation strategies quickly became part of that.
A McKinsey analysis found that companies that invest in innovation during a crisis outperform the competition on market capitalisation by 10 per cent while investing in innovation after a crisis gives them a 30 per cent advantage. This proves that it is extremely beneficial for companies to prioritise NPD innovation.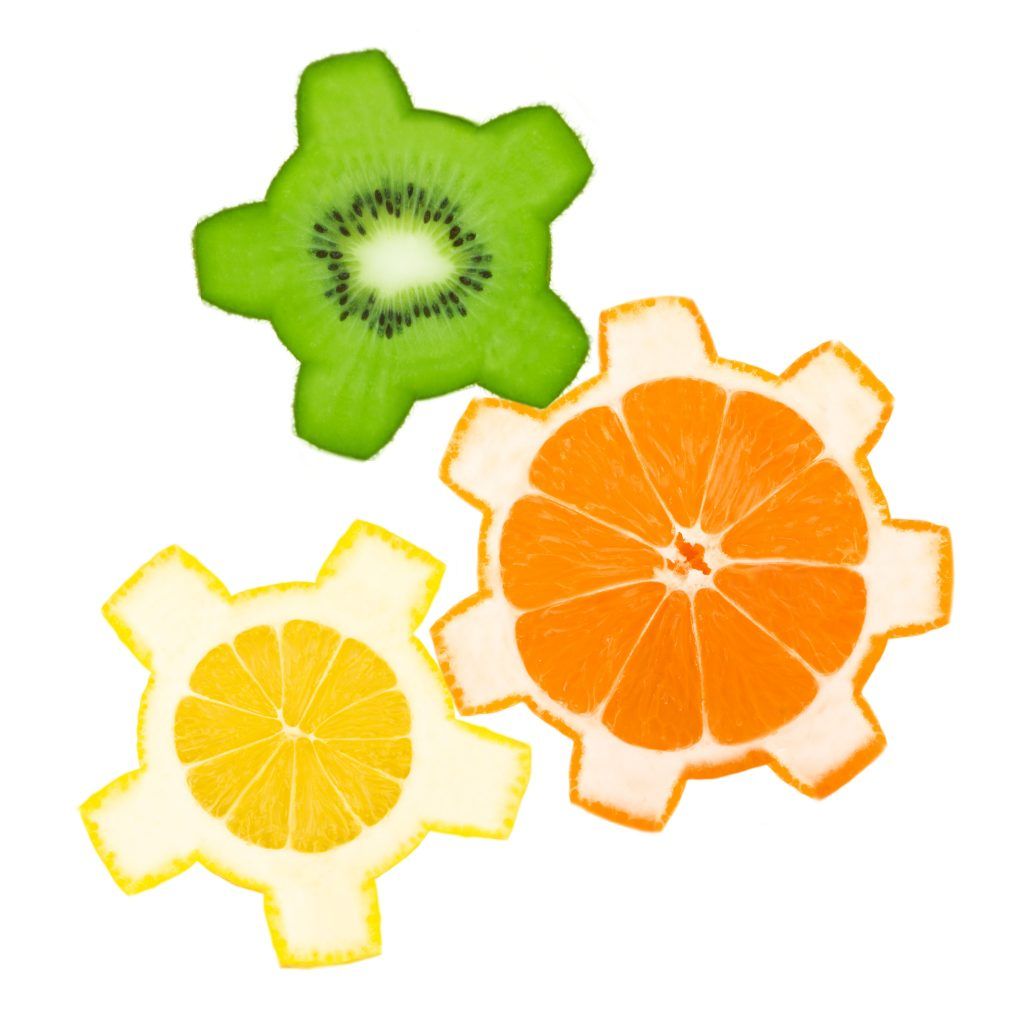 The impact of 2020 has caused major changes in consumer expectations and demands from food and drink products which require functional food product developers to find some way of keeping up with these new expectations. The best way to do that is through the implementation of strong market research and a virtual NPD process.
The challenges of a traditional NPD process still remain and are now coupled with the added concerns of going virtual. Food Ingredients Global reported from an April 2020 survey within the food industry that while innovation was continuing uninterrupted at most companies, the vast majority (84%) explained that presenting new products was more challenging, and over half of launches that had been planned for 2020 were delayed.
NPD, while risky, is essential for product growth and gaining competitive advantage in an increasingly global marketplace. So, how exactly can we use these new virtual ways of working to our advantage?
Finding Success Through Virtual NPD Strategies
Success in implementing virtual teams for a new product development project often requires more focus on the processes and people, rather than the technology involved. The benefit of achieving a successful virtual team can mean a reduced time-to-market for new products or changes to existing products;
access to a larger

more international knowledge hub

and greater agility and flexibility.
All of which are key success factors in a competitive market.
Virtual NPD Strategies
A Virtual NPD approach will be of particular importance to companies with shorter product life cycles. In cases where it is necessary to quickly and safely develop new products and stay ahead of the competition. The pressure of globalisation makes this more difficult. But you can also use this to your advantage by collaborating with external teams who can offer international know-how and experience to elevate your product in its chosen market(s).
We need to move away from the more traditional NPD approach and towards a more integrated and innovative way of working. Virtual environments can more easily support this outlook and offer a flexible and agile infrastructure.
Adopting a virtual NPD approach can also often lead to increased customer involvement as it takes away the need for many different teams, departments and/or customers to travel for meetings and is easier to find a common time to suit everyone involved. Less travel and commute time also results in a lower carbon footprint which may help many companies reach certain environmental goals.
iNewtrition has been working remotely on virtual NPD projects and Innovation Workshops since before Covid began and we have been able to finetune that experience with each customer and project we have had the pleasure of working with so far. In that time, we have been able to help our clients achieve big wins. For example, we helped an FMCG multinational launch a plant-based yoghurt with a clean label, worked with an SME in optimising their formulation and process parameters of a plant-based soy drink with functional ingredients, and also helped improve the organoleptic properties of a new vegan spread for a start-up.

How To Implement a Successful Virtual NPD Process
When looking to implement an effective virtual NPD process, there are three main areas to consider:
Ensure that everyone involved fully understands the company's overall strategy. From its product range and competitors to its strengths and weaknesses, and distribution network.

Knowledge of the technology and know-how needed to produce the product is essential.

An understanding of current consumer needs and habits is also vital. So as to ensure a truly consumer-centric focus when developing products for your target market.
In virtual NPD approaches, planning needs to be carried out to the smallest detail and timing is critical. To minimise setbacks or errors, a solid communication plan also needs to be set in place from the beginning. This can look like creating clearly defined agendas and communication protocols with all those involved and highlighting prerequisites such as digital platforms and software for maintaining communication.
Project Lead
It can be helpful for NPD projects to assign only one person to lead the project from the beginning, whether internal or external. That way, they can oversee all decisions being made and you can avoid duplication of work or time spent on certain tasks. When I work with clients on projects like this, they have often expressed their appreciation for only having one person to go to with any questions, queries or ideas. This time spent can be the difference between a successful and quick product launch, and one that is continuously delayed.
Even 5 hours a month can make a difference to your project. Some examples of tasks that we can work on within this time frame could be:
– Initiate a business strategy or feasibility study to examine gaps and opportunities in your project, predict potential challenges, and develop an understanding of your audience/market.
– Carry out a product design analysis to develop a sensory profile or signature.
– Proof of concept and value proposition development.
– Project management with key accountabilities, timelines, and review for the project.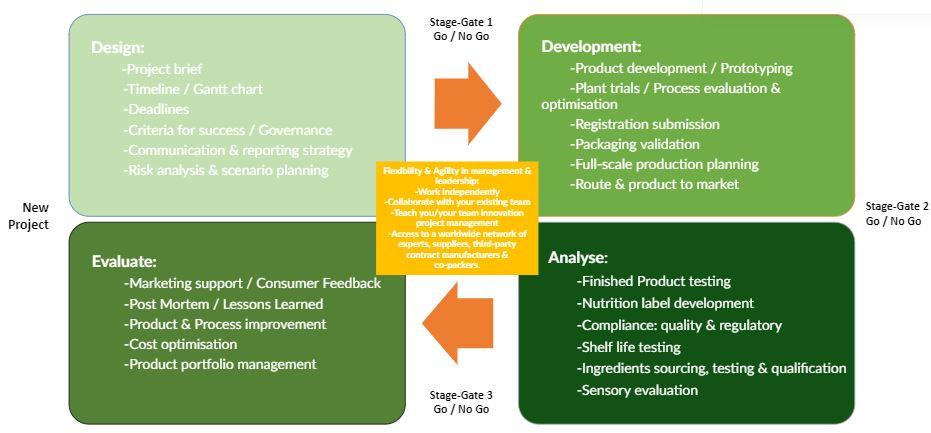 Image: example of an NPD process at iNewtrition optimised for innovation
These are just a few suggestions and would all be tied in with more advanced technical knowledge and insights from myself and relevant experts at iNewtrition.
Key takeaways
NPD projects, whether traditional or virtual, are not without their complications and challenges, largely due to the quantity of people involved throughout the entire process.
However, Virtual NPD projects will be here to stay for the foreseeable future. So it is in our best interest to work on adapting our internal procedures. And leverage new technologies and ways of working to suit a more virtual environment. So we can continue to launch successful food and beverage products, despite the challenges we face today.
The key is to work with someone who has been through the process before, ideally multiple times, and can foresee the most common challenges and share personalised solutions with you in order to successfully navigate these challenges.
If you are looking to co-manufacture or implement virtual NPD strategies in the most efficient and cost-effective way for your brand, email [email protected] and we can discuss in more detail how this might look.
– Raphaelle
—————————————————————————————————————————
iNewtrition is an Innovation as a Service (IaaS) agency for the functional food & beverage, and health & wellness industries. We provide agile customer solutions, end-to-end support, or can simply help you overcome specific bottlenecks to fast track innovation and product development. The services and expertise we offer are on-demand and available to you instantly via our online booking platform. Our skills combined cover every step of your innovation journey, from feasibility study, product design or development, to post-launch scale-up. Contact Raphaelle at [email protected] to start your journey.
REFERENCES