A successful project in any industry requires a good project manager with experience in compliance by design to oversee it. This is especially true of the food and beverage industry where there are many areas along the supply chain to be considerate of.
If you have set up a business or brand within the food industry, you likely have extremely good skills in certain areas of food production or product design for example but may lack the knowledge or understanding of how other elements along the supply chain work.
This is where a good project manager can come in to help you bring your project together and keep all the moving parts flowing smoothly in the right direction. There are many different food industry areas where a Project Manager can add value, for example, the launch of a new product, design or development of new flavours or innovations, new concept implementations or quality / regulatory improvement initiatives and management (which we will look at again further down in compliance by design).
iNewtrition was created with this idea in mind. With 25 years experience in the food and beverage industry managing various projects of different scopes and responsibilities, I learned to streamline certain project management processes and skills so that I could share these abilities with new brands in the industry. Below is a high-level overview of a typical project management plan of action, which would be further tailored to your specific project goals and budget should you need assistance in this area.
The iNewtrition Project Management Process
Timeline creation according to established launch deadlines.

Establish critical milestones for food product development, plant trials, certification submission, packaging, and full-scale production.

Coordination of teams and third parties/vendors for the flawless execution of projects.

Develop a detailed project plan using the stage-gate process and agile methodology to track progress.

Project status reporting for different audiences.

Point of contact for all project needs.

Perform risk analysis and scenario planning to plan for contingency and mitigation.

Create and maintain comprehensive project documentation during new product development.

Exhibit strong organisational, written, and verbal communication skills.
What to look for in a good Project Manager?
Depending on your needs for a particular project, you should be looking for a Project Manager who has experience in managing the product development process all the way from concept to shelf. This will allow you to be confident in their ability to understand and prepare for the challenges along the way and properly adjust your project to meet the correct requirements.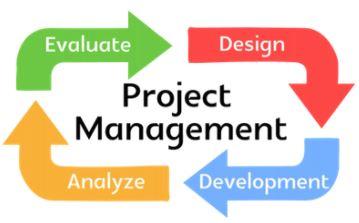 In order to create a process for each project that encourages optimal innovation, I tend to work from a four-pillar process that runs from evaluation, design, development, and analysis (as illustrated above). I have broken down each of these pillars in the image below to give you an idea of what a typical project process could look like, bearing in mind that every single project will be evaluated differently through personalisation to your needs and therefore result in a different process and outcome.
Project management experiences and key learnings are often referred to as "Lessons Learned". Those can be captured at the end of each stage gate of the new product development and innovation process and are essential elements of continuous improvement principles and lean methodology resulting in compliance by design.
Lean innovation is about every employee being able to take the initiative to solve problems and improve their job, thus in a way that provide value for the customer and prosperity for the organisation. No better timing for each and every one of us to look for ways and means of creating value whilst preventing and reducing waste!
How Does Compliance by Design Fit Into This?
When your business processes and practices are compliant by design, this means that you have them set up in a way that you can pave the way for strong technical expertise in formulation and science to ensure safety, quality and compliance in highly regulated environments.
We want to help you streamline more of your processes and reduce the manual elements as much as possible so that you can increase efficiency and control throughout leaving you with plenty of time to focus on putting your customers and clients first.
Here are some of the services (non-exhaustive) on offer within the compliance by design service scope:
Technical lead for all R&D innovation & renovation activities: compliance by design.

Development of prototype formulations and scale-up trials.

Support the manufacture of samples for clinical studies.

Management of co-manufacturers.

Shelf-life assessments.

Sensory evaluation.

Consumer acceptance testing.

Spray drying technology & Ready-to-drink.

Product industrialization & technology transfer to factories.

Technical & Scientific Support to Marketing Function.

Identify the fastest route to market.

Support marketing strategy & execution.

Label & artwork development.

Contribute to making products, services and claims credible, compelling and compliant.

Claims Implementation Guidance (CIG). Rationality and totality of evidence to support claims, marketing and branding.
How to Become Compliant by Design in your Business?
It is easy to talk about ensuring these types of processes are in place but the starting point is usually the hardest. Many business owners simply don't know where to start. This is where an experience of working throughout the entire design, development, and implementation processes is useful as it allows your Project Manager to prioritise tasks and plan ahead around contingencies.
An example of a project relating to compliance by design implementation in a food industry context could be evaluating targeted nutritional values and making sure they are within regulatory limits to make specific claims and maintain a competitive advantage.
The first step will be to take a look at your current processes and examine where the gaps are. Is regulatory compliance something that you currently consider, for example? What is your Company's attitude to regulatory compliance? How many of your processes are automated? How many more could be? We'll look at all of these things and more together to ensure that you are making the best decisions for your business.
……………………………………………………………………………
iNewtrition is an Innovation as a Service (IaaS) agency for the food & beverage, and health & wellness industries. We provide agile customer solutions, end-to-end support, or can simply help you overcome specific bottlenecks to fast track innovation and product development. The services and expertise we offer are on-demand and available to you instantly via our online booking platform. Our skills combined cover every step of your innovation journey, from feasibility study, product design or development, to post-launch scale-up. Contact Raphaelle at [email protected] to start your journey.